Cairnworth Hall
located in Silverlake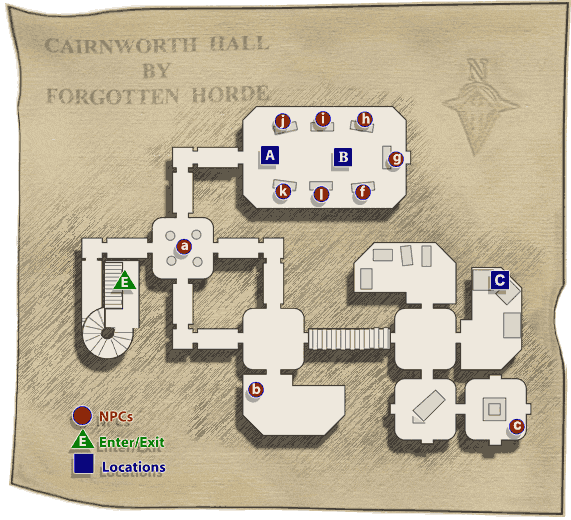 Locations
A Hall of the Old Guard
B Old Guard Grave
C Dillen Cameron's Bracelet
NPCs

'
a Squire Ellord D'egg
b Spirit of Iggiri Contras 5x20
c Ghost of Adyra Savinth NPC
f Ghost of Sir Finneous 5x21
g Ghost of Templar Larrin 5x21
h Ghost of Sir Alaster Moore 5x21
i Ghost of Jorrel Kar 5x21
j Ghost of Sir Kalius 5x21
k Ghost of Kiara Dale 5x22
l Possible Spawn
Quests
Entrance to Cairnworth Hall Cairnworth Hall is seemingly void of named mobs, but this is more than made up for with the Relic quests. The Relics drop randomly from any mob in Cairnworth Hall. The names of the Knights are no indication of what they might drop. Most of my drops came from Squires or Prisoners.

After you loot a relic you can return to Sir Mikhal and he will give you a summoning gem to use in the Old Guard Hall. I gathered 4 relics the first time and popped all 4 getting a mob at 4 different tables. I noticed there were 7 tables in the room, so I killed a ton of time to collected 7 more. Specific mobs did seem to pop off of certain relics. The second time I attempted to use multiple gems before killing to see if I could fill all the tables. I ended up losing a few so I would suggest only doing one relic at a time. My best guess is it has a random chance to spawn at 2 locations and if it picks a location that already has a mob spawned it overrides it and you lose your gem.
[19] Relic of Wisdom Given By: Ghost of Sir Mikhal

Reward:

Used to summon:

Ghost of Sir Finneous 5x21

Ghost of Jorrel Kar 5x21

[19] Relic of Honor Given By: Ghost of Sir Mikhal

Reward:

Used to summon:

Ghost of Sir Alaster Moore 5x21

Ghost of Sir Kalius 5x21

[19] Relic of Courage Given By: Ghost of Sir Mikhal

Reward:

Used to summon:

Ghost of Templar Larrin 5x21

Ghost of Kiara Dale 5x22
Lakeview Village Inside Journey's Respite
[19]Relics of Virtue Given By: NPC Sage Transor Kaul

Speak with the Ghost of Sir Mikhal at Cairnworth Hall.

[19]Bracelet of Memories (Group) Given By: NPC Vaelbeth Cameron

Find Dillen Cameron's Bracelet in Cairnworth Hall Jail. (Found on a dead skelly on the ground between two jail cells)

Reward:

[19]Unshackling the Past (Group) Given By: NPC Neilan Sparling (upstairs)

Collect 5 rusted shackles from Cairnworth Hall Jail. (Found on floor spawn skelitons in the jail rooms)

Reward:
Adlyn's Watch (Located in Coastal Graveyard)
[22]The Crux of Cairnworth Hall Given By: NPC Sage Orachar (Must complete the "Summoning the Houndmaster side quest to complete)

Retrieve the Houndmaster's Torque.

Reward:

[22]Summoning the Houndmaster Given By: Paw of Galanash Random Loot Drop inside Cairnworth Hall

Bring the Paw of Galanash to the Ghost of Adyra Savinth in CH.

Reward:

Used in the "Hall of the Old Guard' room to Summon Jorris the Houndmaster 5x22. (Would clear the room before clicking the paw) I failed the first attempt and returned to the room and Jorris was still up however he was non attackable. I farmed a new paw and when I clicked it his guard dogs reapeared and agroed but he was still non agro. I would suggest farming around untill Jorris despawns before you try to pop him again.